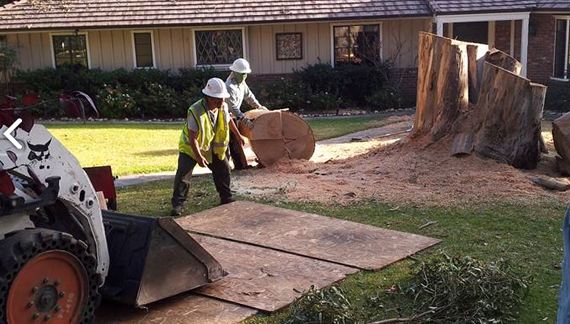 Trees grace our property's, giving us a serene glimpse of nature. We plan picnics under them; hang swings for our children form their limbs; and even decorate them during the holidays. They are like old friends that need to be cherished. It can be difficult to say goodbye. When the disease or the damage is clear, we can often take down the tree with little concern. But, what happens when you aren't sure whether removal is necessary. Depending on where it is and how big it is the job can run from simple to complicated. That is why it is important to hire an experienced team that considers all aspects of the job including:
Power Lines:
Take care when trees are near power lines. Be sure to contact the energy company to have the line disabled during tree removal.
Nearby Structures:
Nothing is worse than taking down a tree only to have a diseased limb fall on our roof (or your neighbor's roof). Watch for nearby structures (homes, sheds, cars, etc) to ensure that they are safe during tree removal.
Personal Injury Risks:
Unsteady trees can pose all kinds of dangers for the people around them. Stay out of the professional's way during the removal process. They have the experience to handle whatever comes their way, but having to deal with a homeowner's safety is something they should not have to worry about.
Tree removal is a specialized industry that requires professional training to ensure the job is completed as efficiently and safely as possible. We guarantee that every tree removal specialist we send out has been trained and certified to handle any tree removal issue they come across. Our team prides itself in offering our clients:
Efficiency: Our team works hard to get every job done in a matter of hours. From prep, to removal to clean-up and even replanting, our comprehensive plan handles every detail.
Root removal: Roots can cause lots of problems in the months and years ahead. Alleviate the risk of underground issues down the line with complete root removal when you take down your tree.
Stump removal: Stumps are a major tripping hazards when left in place. They also encourage insects which can infiltrate other trees in the area – or even your home.
Tree removal can be complicated and it can be dangerous unless it is handled by experts trained in every aspect of the job. Four Seasons Landscaping is a Los Angeles residential tree removal expert who have many years experience efficiently and safely removing trees of all types and sizes.